Babu's Pau Bhaji Kati Sandwiches Review
Babu's Pau Bhaji Kati Sandwiches

Available at Oak Tree Road
Indian Grocery Stores
Edison / Iselin, NJ


Babu's Pau Bhaji Kati Sandwiches: Good
I am no stranger to Kati Sandwiches. I have had Aloo Chaat Kati Pouches peddled by Trader Joe's a few times. So when I saw Bab's Pau Bhaji Kati Sandwiches in the frozen curry section of my grocery store, I dropped one packet into my grocery cart.
Inside the Box
Priced at $2.49, Bab's Pau Bhaji Sandwiches includes two pieces. Each sandwich is individually wrapped neatly in a plastic bag.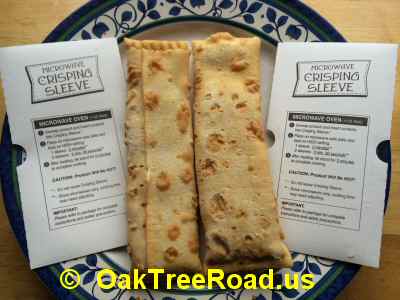 Pau Bhaji with Crisping Sleeves
Also, like the Trader Joe's Aloo Chaat Kati Pouches, Pau Bhaji Kati includes two crisping sleeves. BTW, the crisping sleeves looked exactly like the sleeves we got with Trader Joe's Aloo Chaat Kati Pouches. The heating instructions were clear and you just have to cut open the plastic bag, remove the sandwich, slide it into the crisping sleeve and heat on high for 3 1/2 minutes for two sandwiches in a microwave safe dish/plate.
Voila
, that is all you need to do to get the Pau Bhaji sandwiches from the box to your mouth. No, the three and half minutes time was no enough and the Sandwiches were cold in the middle. It took a little 4 minutes to get the sandwiches evenly heated.
Pau Bhaji Kati Sandwiches
The medium size Pau Bhaji Kati Sandwiches came with a thick outer layer.
The outer layer was thick enough to hold the Pau Bhaji stuffing intact even after heating.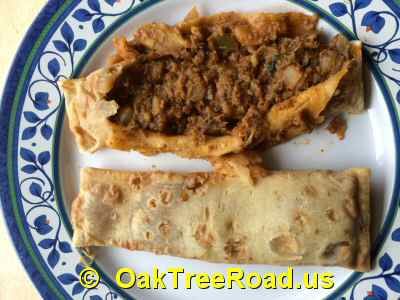 Pau Bhaji Kati Sandwiches
The evenly spread / distributed Pau Bhaji stuffing inside the pouch included Potato, Green Peas and Tomato. The stuffing had a slightly pasty texture, neither too solid nor too soggy or liquidy. Now for the most important question - did it appeal to my tastebuds? Yes, yes and yes. The Pau Bhaji stuffing was flavorful, had an unmistakable Indian flavor and aroma and much relished.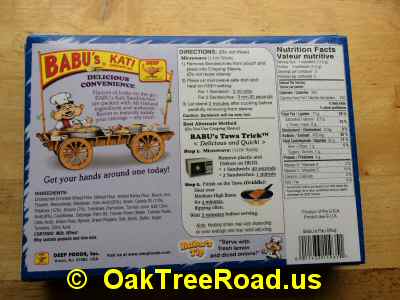 Nutrition Info
Nutrition
Serving Size: 1 Sandwich (113g)
Servings Per Container: 2
Calories per Serving: 300
Calories from Fat: 150
Pau Bhaji Kati Sandwiches in box: 2
Pau Bhaji Kati Sandwiches Rating
Overall, I would put Babu's Pau Bhaji Kati Sandwiches marketed by DEEP in the good category.
Taste-wise, the sandwiches are decent and heating them is easy.
Go for it! - ©
OakTreeRoad.us