Bansi Golden Bhel Kit Review
Bansi Golden Bhel Kit

Available at Oak Tree Road
Indian Grocery Stores
Edison / Iselin, NJ


Bansi Golden Bhel: Disgrace
Most Oak Tree Road Indian grocery stores carry
Bansi Golden Bhel
. You can't miss the prominent boxes.
It must be bad Karma that led me to pick up the Bansi Golden Bhel Kit ($2.19) to satiate my Indian snack craving the other day at an Indian grocery store.
But one spoon of the Bhel Puri left an awful after-taste that I had to use a generous amount of Listerine to clean my mouth.
Truth be said, I was misled by the attractive picture on the box.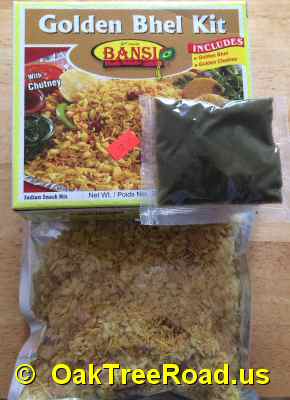 No, No, No, No
Bansi Golden Bhel mix included 8 small Puris, Sev, fried Beaten Rice (Poha, Atukulu, Avulakki), plain Boondi and some fried Peanuts. There were multiple problems with Bansi Golden Bhel: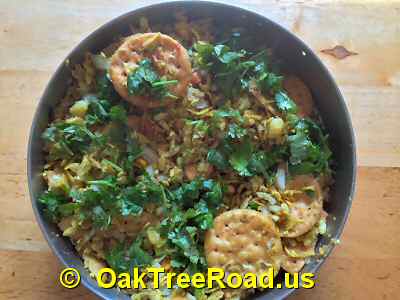 First, the green Chutney packed a chemical taste.
Second, the serving size of the Chutney was small, insufficient for the quantity of Bhel Puri provided. As a result Bhel Puri remained dry even after mixing the entire packet of green chuteny.
Third, even the addition of recommended chopped onion, boiled potato, sliced green chilli and cilantro leaves did not help much as the Bhel Puri was overall badly lacking in spice.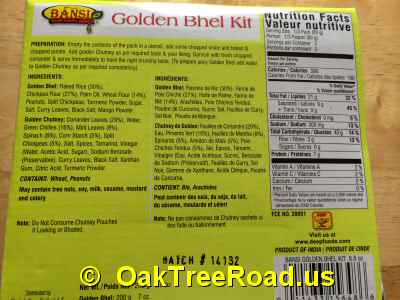 Nutrition
Serving Size 1/3 Pack: 80g
Servings Per Container: 3
Calories per Serving: 390
Calories from Fat: 190
Bansi Golden Bhel Kit Rating
If you crave Indian chaats and street food snacks like me, I suggest you run from this impostor of Bhel Puri even if it's given free.
Bansi Golden Bhel is not a treat but an atrocity of Brobdingnagian proportions. - ©
OakTreeRoad.us