DEEP Vegetable Cutlets Review
DEEP Vegetable Cutlets

Available at Oak Tree Road
Indian Grocery Stores
Edison / Iselin, NJ


DEEP Vegetable Cutlets: Skip the Plight
Back home I often treated myself to Vegetable Cutlets at the
India Coffee House
or during my travels on the train from Madras to Bangalore (Brindavan Express) or Vijayawada to Hyderabad (Golconda Express). The railway canteen staff would bring fresh-off-the-pan Vegetable Cutlets along with piping hot coffee or tea. It was those nostalgic memories from
Mera Bharat Mahan
that prompted me to pick up the frozen Vegetable Cutlets peddled by DEEP. Much as I love Vegetable Cutlets, I consider it a messy affair to make them from scratch. Hence I took the easy way out to fulfill my Cutlet craving. In retrospect, it was a bad move as Deep's Vegetable Cutlets turned out to be mighty disappointing.
Overall Tasteless
The primary problem with the Vegetable Cutlets was lack of spice and taste. Sure, the outer texture of the deep fried Vegetable Cutlets was crisp. But the inside patties were badly lacking in spices, taste and flavor. It felt like eating finely boiled and mashed vegetable paste devoid of any spices and seasoning. Besides the lack of spice, the texture of the patties was also a little soggy making the whole experience of eating the Cutlet a little yucky.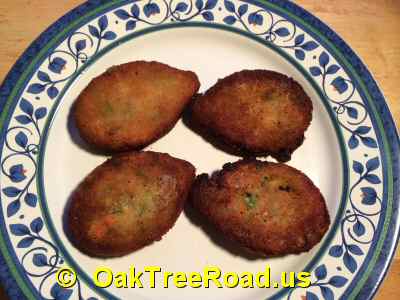 $2.99 - 4 Pieces
Vegetable Cutlet Patties included Potato, French Beans, Green Peas and Carrots.
Packaging & Instructions
Four Vegetable Cutlets were packed in a small tray with a plastic seal.
Since they were not packed individually, I ended up frying everything.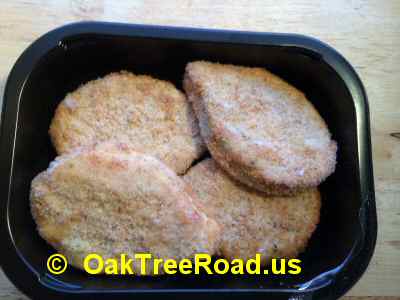 Inside the Tray
Heating instructions were alright and I had to fry them for eight minutes to get the desired golden brown color.
The instructions suggested 5 to 6 minutes of deep frying in medium heated oil.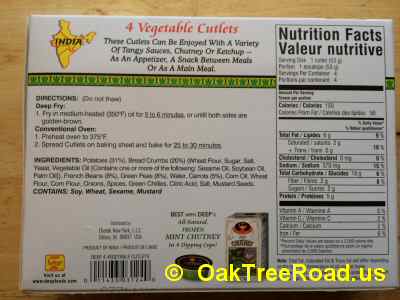 Nutrition Info
Nutrition
Serving Size 1 Cutlet: 53g
Servings Per Container: 4
Calories per Serving: 150
Calories from Fat: 50
DEEP Vegetable Cutlet Rating
Overall, my frozen Vegetable Cutlet experience turned out to be utterly disappointing.
Deep's Vegetable Cutlet is not worth your time, attention and money. Stay away.
I squandered 30 valuable minutes of my life in heating the oil, frying and eating these Indian veggie patties. - ©
OakTreeRoad.us