Haldiram Motichoor Ladoo Review
Address:


Haldiram Motichoor Ladoo

Available at Oak Tree Road
Indian Grocery Stores
Edison / Iselin, NJ



$5.99 for 12 Pieces
Haldiram Motichoor Ladoo: Atrocious
It was my insatiable craving for Indian sweets that made me buy
Haldiram Motichoor Ladoo
(
$5.99
) during my Diwali visit to an Indian grocery store.
Atrocious
The Haldiram folks must be the most cruel species on Planet Earth.
How else can you explain the
Haldiram Motichoor Ladoo
being so atrocious.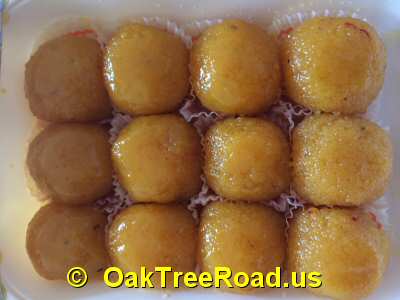 Atrociously Low on Sweetness
Haldiram's Motichoor Ladoo failed miserably at the most fundamental level - sweetness. It was so low on sugar that I wondered if I had mistakenly picked up a box meant for diabetics. But upon checking all sides of the box for diabetics labeling and finding none I realized the bozos had swindled me royally during Diwali.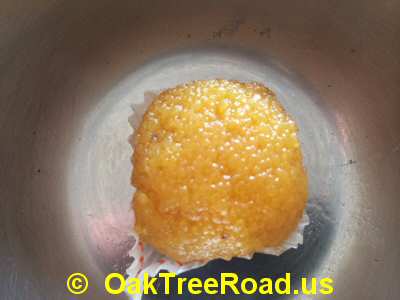 Haldiram Motichoor Ladoo
If you think it was only sweetness that was lacking in Haldiram Motichoor Ladoo, you are so wrong. Besides low sugar and sweetness, there were other things that were wrong with Haldiram Motichoor Ladoo:
First, the outer texture was oily rather than dry as it is the case with Motichoor Ladoo
Second, Haldiram's Motichoor Ladoo did not have the boondi texture. Rather it had the texture of coarsely ground Chickpeas ravva like flour.
Third, it was low on Green Cardamom flavor.
Fourth, Haldiram's Motichoor Ladoo packed only a faint flavor of Saffron though the box touts "Safron infused Chickpea sweets."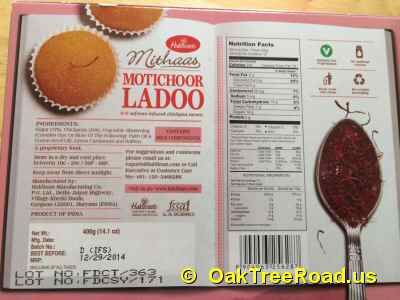 Nutrition
Nutrition
Serving Size: 1 Piece : 34g
Servings Per Container: 12
Calories per Serving: 140
Calories from Fat: 70
Packaging
Haldiram's Motichoor Ladoo box included a total of 12 pieces, each placed in a small paper cup.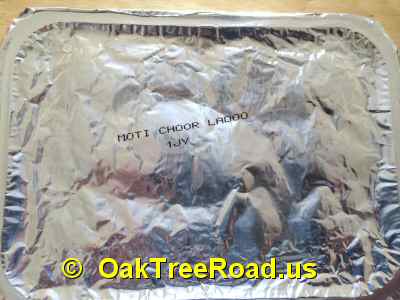 Haldiram Motichoor Ladoo Inside Box
Ladoos were placed in a small plastic tray sealed with an aluminum foil.
The box included a small sachet containing iron for keeping the Ladoos fresh.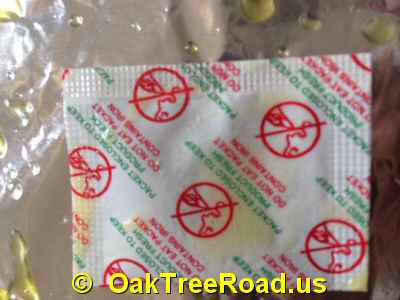 Freshness Preservative
Haldiram's Motichoor Ladoo Rating
If you have a sweet tooth like me, I suggest you steer clear of Haldiram's Motichoor Ladoo.
They are so disgusting that you may develop an aversion toward this popular Indian sweet. - ©
OakTreeRoad.us