MTR Vada with Sambar & Chutney Review
MTR Vada with Sambar & Chutney

Available at Oak Tree Road
Indian Grocery Stores
Edison / Iselin, NJ



MTR Vada Sambar & Chutney - $2.99
MTR Vada with Sambar & Chutney: Crispy Vadas, Disappointing Sambar, Horrid Chutney
I like crispy Indian tiffin items.
Be it Medu Vada, Masala Vada, Masala Dosa or Muruku, I love 'em all.
For me, a visit to an Indian grocery store is incomplete without picking up a crispy snack and tiffin item.
So when I saw MTR frozen Vadas with Sambar and Chutney in the frozen food section, I dropped a packet in my cart.
I love Medu Vada but it's a pain to make them from scratch.
Pricing and Contents
Priced at $2.99, MTR Vada with Sambar and Chutney included three frozen vadas along with frozen Sambar and Chutney.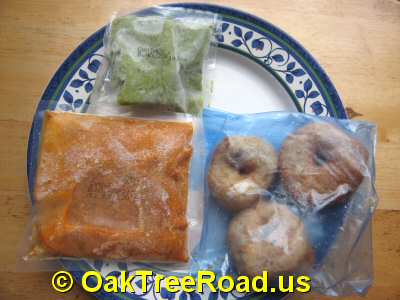 MTR Vada, Sambar & Chutney Packets
The size of the Vadas is not uniform and two belonged in the medium size and one in the small size category.
Vadas, Sambar and Chutney were all neatly packed in three separate sealed plastic bags.
Clear Heating Instructions
The back of the box included clear heating instructions for all three items.
Heating instructions for Vada included microwave defrosting for one minute and then deep frying in heated (about 185 degrees Centigrade) Sunflower oil.
Since I did not have Sunflower Oil handy, I used Canola Oil for deep frying the Vadas.
And the instructions for frozen Sambar were three minutes heating on high in the microwave, stir and serve.
But three minutes was not sufficient and I had to heat the Sambar for a total of five minutes to get a evenly hot temperature.
Now for the Chutney. According to the instructions, it's to be thawed by immersing the pouch in warm water. It took about five minutes for the Chutney to thaw.
MTR Vada - Crispy Delight
To my immense pleasure, MTR deep fried frozen Vadas turned out to be crispy and yummy.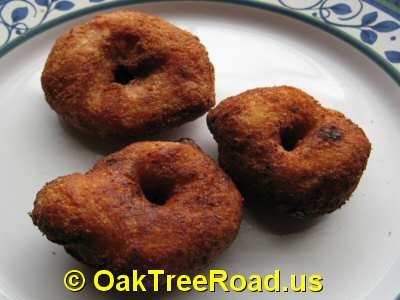 Deep Fried Vadas
They were so good that I was hankering for more after eating all three. They were not only crisp but packed right amount of Salt, Green Chilli, Ginger and Curry Leaves seasoning. My only grouse with the MTR Vadas was that the package included only three pieces.
Disappointing Sambar
While the Vadas were delicious, the Sambar and Chutney turned out to big disappointment. Sambar did not pack the usual South Indian flavor.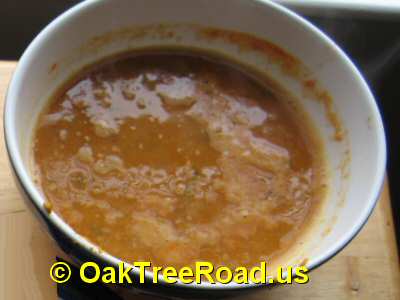 MTR Vada Sambar
And it was badly lacking in Tamarind sourness so common to the South Indian Sambar. Plus the serving size of Sambar was small for three Vadas. Overall, the Sambar was bland and did not enhance the taste of Vada pieces dipped into it. I pushed the Sambar away and ate the crispy Vadas without any side.
Horrid Chutney
MTR Chutney was worse than the Sambar.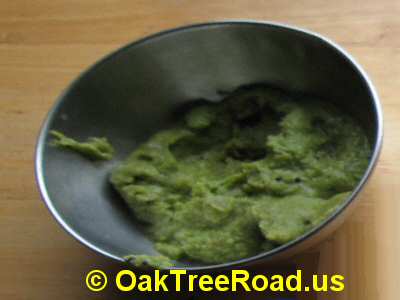 MTR Vada Chutney
It was so bland that I doubt any Green Chillis, Red Chilli and Ginger really went into its preparation (as claimed on the back of the box). The lack of Coconut flavor was another negative. The MTR Chutney that came with frozen Vadas tasted like smooth finely ground Chickpea splits with Coriander Leaves and devoid of any heat, spice and flavor. Although the serving size of both Chutney and Sambar were small, I wasn't too bothered because they were terrible.
Nutrition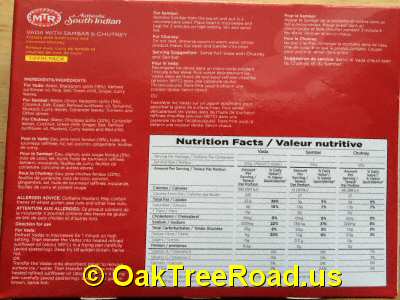 Nutrition Info
Nutrition
Serving Size 3 Vadas : 120g
Serving Size 1 Sambar : 150g
Serving Size 1 Chutney : 50g
Servings Per Container: 1
Calories per Serving Vadas: 363
Calories per Serving Sambar: 73
Calories per Serving Chutney: 69
Calories from Fat Idli: 225
Calories from Fat Sambar & Chutney: 27 each
MTR Vada with Sambar & Chutney Rating
While MTR frozen Vadas turned out to a crispy delight, the Sambar and Chutney failed at the basic level of spice, taste and flavor.
If you love Medu Vada like me, go for the MTR frozen Vadas but be prepared to use your own Chutney and Sambar to go with them. - ©
OakTreeRoad.us