Oak Tree Road Indian Grocery Stores
For South Asians, one of the advantages of going to Oak Tree Road in Edison is the chance to purchase Indian grocery items, mangoes during season and fresh vegetables.
There are more than half a dozen Indian grocery stores on Oak Tree Road in Edison and Iselin New Jersey.
Where to Buy Indian Mangoes on Oak Tree Road
During the summer months Indian mangoes are available at Edison and Iselin grocery stores.
Delicious Indian mangoes from Banginapalli to juicy rich and raw mangoes are all sold at Apna Bazar, Patel Brothers and other
desi
grocery stores on Oak Tree Road.
There are few pleasures in life compared to the delight of eating Indian mangoes in Edison and Iselin.
The sweet taste, the juice dripping on to your dress and leaving a big stain, or turning the mangoes into ice-cold Mango Lassi, ah the mere thought is enough to send us into drooling
Nirvana
!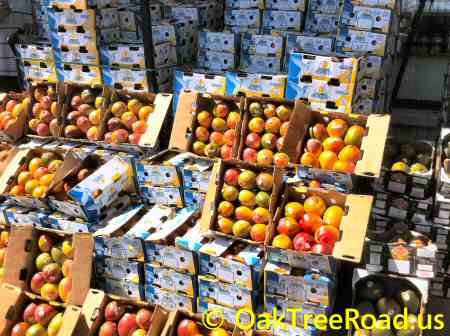 Make a trip to Oak Tree Road in summer to pick up a box or two of delicious and juicy Indian mangoes.
Fresh Indian Vegetables
Even though Edison is not that close to us, we make it a point to stop at the Indian grocery stores on Oak Tree Road on our way back from the Atlantic City casinos.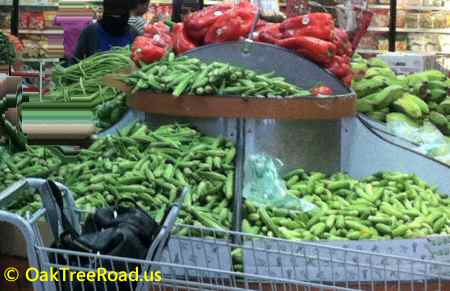 Indian grocery stores on Oak Tree Road also carry vegetables that are not easily available at American stores. These are stuff like Karela (bittergourd), Curry Leaves, Turmeric Root, Betel Leaves etc.
For the most part, the grocery and vegetables are fresh in the Indian stores on Oak Tree Road since there's high traffic to these stores.
Lately, the Indian stores in Edison and Iselin have expanded their frozen food section.



India Grocers

1665 Oak Tree Road
Edison, NJ 08820



Subzi Mandi

73 Middlesex Ave
Iselin, NJ 08830
We have noticed ready to eat Idli, Vada, Masala Dosa, Palak Paneer, Garlic Naan, Channa Masala, Baingan Barta and a variety of other Indian curries. Then there's the usual Indian cold drinks like Thums Up, Limca, Frooti etc and our favorite Malai Kulfi Ice Cream.
Whenever we visit Oak Tree Road, we make it a point to stop by at least one of the stores and stock up on provisions for a month or two on Bhel Puri mix, Rice, Wheat, Idli Rava, Maggi Noodles, Britannia Good Day biscuits etc.
India Grocers
and
Apna Bazar
in Edison and
Subzi Mandi
,
Bestway Cash and Carry
,
Patel Brothers
in Iselin offer a range of Indian grocery, chicken and vegetarian curry packets, spice powders, nalla karam, vegetables, Hindu puja items and mangoes during summer.
Besides the fresh vegetables and grocery items, there are a few
halal meat
stores on Oak Tree Road offering baby goat, lamb, chicken, fresh and frozen fish and marinated meat as well.