DEEP Vegetable Korma Review
DEEP Vegetable Korma

Available at Oak Tree Road
Indian Grocery Stores
Edison / Iselin, NJ


DEEP Vegetable Korma: Forget about It
Out of several frozen curry experiences,
Deep Vegetable Korma
was easily one of the worst. It was the attractive vegetable korma picture that made me to pick up this frozen curry packet. So what was wrong with it? Several things including serving size, vegetable korma taste, and spice level were wrong. Here's my experience: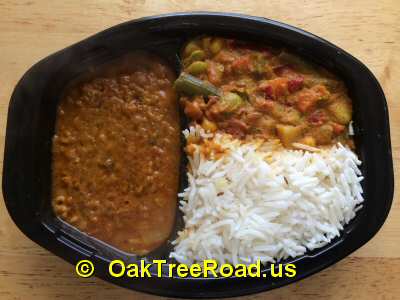 Dal Rajasthani (left) Vegetable Korma (top right)
Cumin Basmati Rice (bottom right)
For a frozen curry packet that says Vegetable Korma with Dal Rajasthani and Cumin Basmati Rice, the serving size of Korma was small compared to the Dal.
As indicated on the box Vegetable Korma included lima beans, green beans, cauliflower, carrot, corn, red bell pepper and potato. But the vegetable medley was way too bland to merit the name Vegetable Korma. It felt like eating finely boiled vegetables. No flavor, no spice zilch nada.
Devoid of any seasoning, Dal Rajasthani with a fine pasty texture packed only a faint flavor of tomato and onion.
Again, like the Vegetable Korma the serving size of Cumin Basmati Rice was tiny. I had no complaints about the texture of the rice.
Serving size of Vegetable Korma with Dal Rajasthani and Cumin Basmati Rice was small and could not satisfy even a light eater like me.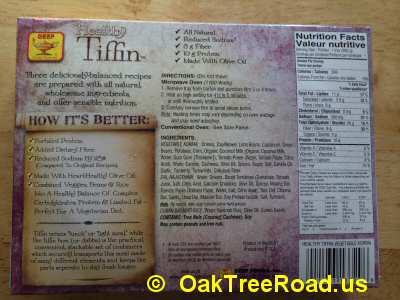 Nutrition Info
Nutrition
Serving Size 1 Tray: 283g
Servings Per Container: 1
Calories per Serving: 330
Calories from Fat: 100
Packaging and Instructions
Vegetable Korma along with Dal Rajasthani and Cumin Basmati Rice was packed in a two compartment tray sealed with a thin plastic film. And I had no issues with the heating instructions of puncturing the film and heating for 4/12 to 5 minutes in microwave. My only grouse was with lack of spice, flavor, taste and tiny serving size of Vegetable Korma.
DEEP Vegetable Korma Rating
If you are looking for a palatable frozen vegetable curry / entree experience - DEEP Vegetable Korma fails miserably on all possible fronts - Serving size, taste, flavor and spice level. My suggestion is to ignore DEEP Vegetable Korma and explore other frozen curry options at Oak Tree Road Indian grocery stores. - ©
OakTreeRoad.us