Rajkamal Edison
Rajkamal Oak Tree Rd: Decent Vegetarian Food
Much as I crave meaty Indian delights like Chicken Dum Biryani, Chilli Chicken or Chicken 65, once in a while I love to immerse myself in vegetarian treats like
Kadi
and
Malai Kofta
, and desserts like
Srikhand
.
That is how I ended up at the new vegetarian restaurant
Rajkamal
on Oak Tree Road in Edison.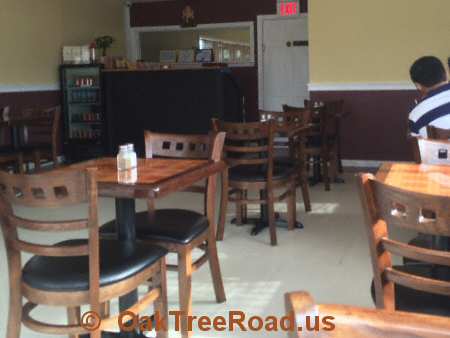 Like most vegetarian restaurants on Oak Tree Road, Rajkamal offers Gujarati, Rajasthani and North Indian curries.
The other day I stopped by at Rajkamal to pick up Tiffin ($6), Malai Kofta ($9), Shrikhand ($3.50) and Sev ($3).
Tiffin - $6
Tiffin comes with a choice of one curry, Kadi, plain rice, four chapatis and pickle.
I chose Potato-Onion as my curry choice for Tiffin.
Here's my take on Rajkamal's Tiffin starting with Kadi: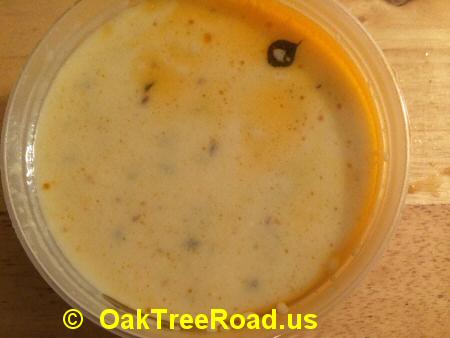 Kadi
To describe Rajkamal's Kadi as delicious would be an understatement.
It was divine, one of the best Kadis I have had at an Indian vegetarian restaurant on Oak Tree Road.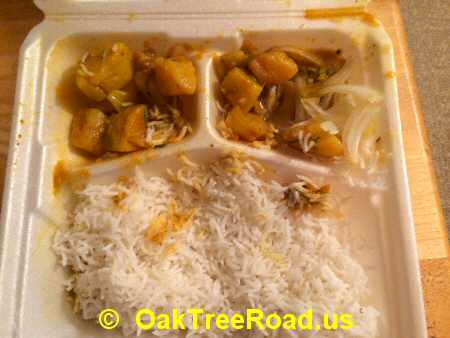 Rajkamal Tiffin - $6
The medium-thick Kadi with Methi, Dhania, Jeera, Cloves and Curry Leaves seasoning was soothing on my tastebuds and I drank the leftovers like soup.
Chapathis with a dab of oil were soft, tasty and much relished.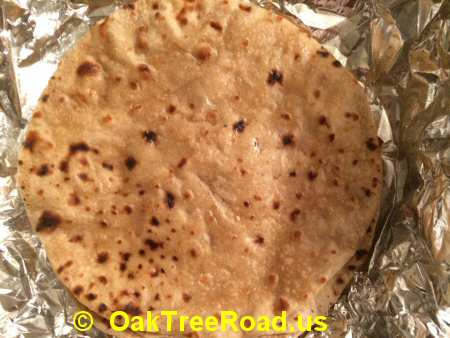 Chapathi
Potato-Onion curry was flavorful. But Potato pieces were a bit hard suggesting it could have been cooked a little more.
Plain Basmati rice was fine. No issues there.
Malai Kofta - $9
Malai Kofta included seven small kofta balls nestling in thick gravy.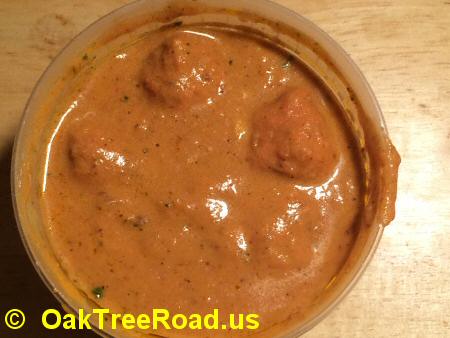 Malai Kofta - $9
With Chapathi or rice, the gravy was flavorful but could have been creamier.
Kofta balls were firm but not very tasty since the gravy had not seeped well into the kofta.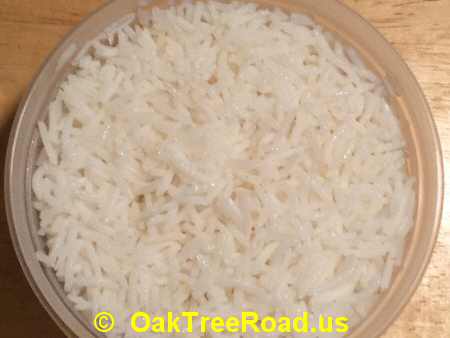 Plain Rice for Malai Kofta
Another gripe I had with the Malai Kofta was that serving size of the entree and White Rice was too small for $9.
Srikhand - $3.50
With just a tinge of sourness, the thick Srikhand with pistachio toppings was superb.
Awesome, kiddo!
I could eat a barrel of Rajkamal's Srikhand.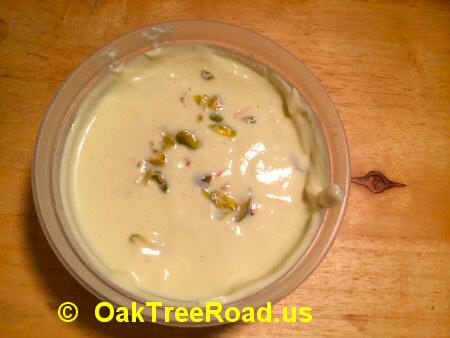 Srikhand - $3.50
Again my gripe was the small serving size of Srikhand for the price ($3.50).
Sev - $3.00
When I return to Rajkamal, I will surely skip the Sev snack.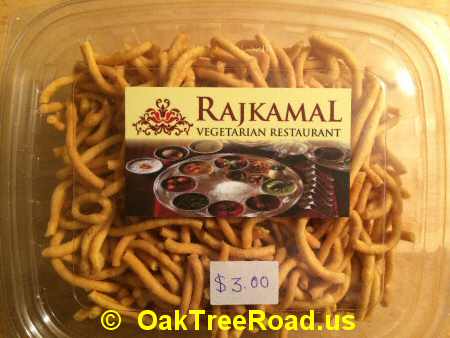 Sev - $3.00
While the Sev was crisp and packed fresh flavor, it failed at a fundamental level - taste.
It was low on salt, chilli powder and overall provided little joy in eating this commonplace Indian snack.
Rajkamal's Sev was a total rip-off. Avoid.
Ambiance
Like most Indian restaurants on Oak Tree Road, Rajkamal has no ambiance to speak off.
To its credit, the restaurant was clean. The Indian guy at the cash counter was polite and handled my order in a professional manner.
My takeout order included plenty of napkins, plastic fork and spoons but no plates.
All the food items except the Potato Onion curry and rice were packed neatly. Pickle should have been packed separately as it got mixed up with Potato Onion curry.
Rajkamal Edison Rating
Its minor issues aside, Rajkamal is an above average Indian vegetarian restaurant on Oak Tree Road.
One of these days, I intend to try their weekend Lunch Buffet.- ©
OakTreeRoad.us