Lovely Sweets and Restaurant Iselin
Lovely Sweets Iselin: Ugly Food & Uglier Sweets
Some New Jersey Indian restaurants are born solely to inflict horrible pain on diners and rip them off with trashy food.
Take for instance
Lovely Sweets and Restaurant
on Oak Tree Road in Iselin, NJ.
Never was a restaurant more inappropriately named.
Read on,
ma cherie
.
Lovely
is more like a self-serve restaurant. You walk up to the counter, pick up a paper menu, place your order and wait at a table for your food to arrive.
Our order included Samosa Chaat ($5), perennial favorites Idli-Vada combo ($5) and Masala Dosa ($6) and later some Indian sweets ($9.81/lb).
Lovely Sweets - Ugliest Samosa Chaat
With high expectations and reminiscing fondly over the
Samosa Chaat at the Desi Galaxy
outpost down the road we eagerly awaited our Chaat.
Samosa Chaat came in about six minutes after our order was placed. Like famished beasts after a kill, we pounced on the Samosa Chaat only to quickly recoil in horror.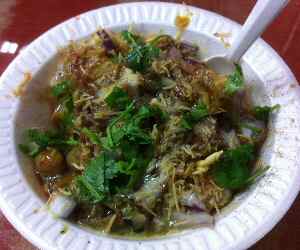 Ugly Samosa Chaat
Never had an uglier Samosa Chaat touched our lips. There were problems galore with the wretched thing.
First, the hot sauce, tamarind sauce and yogurt that give Samosa Chaat its yummy, spicy and tangy flavor were not in evidence. There was no seasoning other than some chopped cilantro leaves thrown on top.
Second, the Samosa Chaat had no taste. The Samosa Chaat at Lovely Sweets and Restaurant was a flavorless monstrosity.
Third, the Samosa that is at the heart of the Samosa Chaat was raw and not cooked properly. The horrible raw flour taste ruined the Samosa Chaat completely.
Overall, the Samosa Chaat was hellishly bad.
Lovely Sweets Iselin - Awful Idli, Vada and Masala Dosa
Our order of Idli Vada included three Idlies, one Vada, Sambar, Coconut Chutney and Tomato Chutney.
Just like the Ugly Samosa Chaat, our Idli-Vada combo suffered from too many problems.
Idlis at Lovely Sweets and Restaurant were a disgrace that no self-respecting Indian restaurant would place before paying diners.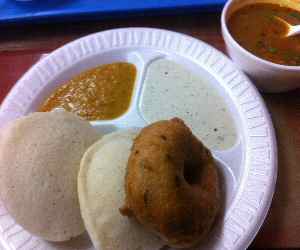 Hard Dry Idli & Crappy Vada
Hard as a stone in the middle and with dry edges, it seemed as if the Idlis had been run through a Whirlpool cloth dryer. It was not even lukewarm.
The accompaniments did not yield any relief either.
Our cup of Sambar had one tiny piece of tomato, onion and drumstick and tasted like a mix of red chilli powder and hot water with cilantro leaves seasoning. Have the folks at Lovely Sweets not heard of Tamarind, Dhania, Black Pepper and Sambar spices, ingredients that give the magic flavor to Sambar.
Coconut Chutney was cold and salty but the Tomato Chutney was alright.
Vada was crisp outside but, alas, only partially cooked inside and barely lukewarm.
All in all, the Idli-Vada combo at Lovely Sweets and Restaurant was not fit for human consumption.
Lovely Sweets - Bad Masala Dosa
All we can say about the Masala Dosa at Lovely Sweets and Restaurant was that it was big.
The Dosa lacked any taste as the flour had not been fermented sufficiently and it was brittle suggesting that the proportion of black gram dal and rice was not alright. Dosa becomes brittle if too much rice is added to too little black gram dal. What compounded our misery was the cold heap of tasteles potato filling inside. Folks, the potato filling was taken straight out of the fridge and added to the Masala Dosa.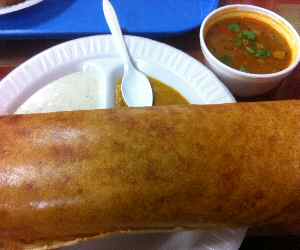 Bad Masala Dosa
Disgusting
We ordered Idli Vada and Masala Dosa with hopes of eating freshly prepared food and not old refrigerated and reheated junk. But much to our disappointment we noticed the Kitchen staff taking the Idlis out of a white plastic box with blue lid and Vada from a silver paper wrapped container. We saw the lady with glasses taking the Vada and reheating it in oil.
Besides the brittle texture, Masala Dosa was not even hot as it was lying on the Kitchen table before it landed on our table. You see the three women in the kitchen and the guy who prepared our Dosa were more interesed in chatting and drinking Tea rather than quickly delivering the Dosa to our table.
Cursing the clueless and poorly trained kitchen staff, we moved to the sweets section at the front of the store (near the entrance). We purchased a pound of assorted Bengali Sweets.
Lovely Sweets and Restaurant - Uglier Sweets
Much to our dismay, the sweets we tasted turned out to be sugarless, tasteless and a travesty.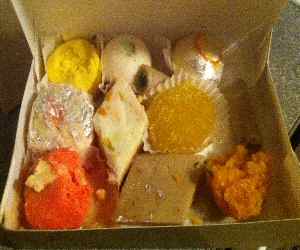 Uglier Sweets
MotiChor Ladu was low on sugar and had a lousy oily smell and taste.
Kaju Katli was borderline stale and tasted bitter.
Malai Sandwich suffered from a sugar famine and was tasteless.
Mango Sandesh with a faint mango flavor and slight chemical smell tasted like a wet maida flour patty.
Ditto with Pista Sandesh which was low on sugar and no flavor of pistachios.
Malai Peda with a raisin in the middle had a chemical flavor and tasted like a wet maida flour ball.
Kashmir Peda was low on sugar and had poor quality oil smell.
Pista roll and Gajjar Halwa with their slight burnt flavor did not provide any relief from our misery.
Cherry Cham Cham was another tasteless sugarless monstrosity that we had to endure for the sin of buying one pound of assorted sweets at Lovely Sweets and Restaurant.
Lovely Sweets & Restaurant - Rating
Guys, starve if you must but do not ever make the eggregious mistake of dining at
Lovely Sweets and Restaurant
on Oak Tree Road in Iselin.
These guys are clueless buffoons who have no idea of the magic of Indian cuisine and incapable of getting even simple dishes right. ©
OakTreeRoad.us