Green Chilli Iselin NJ Review
Green Chilli: Awesome Chicken Biryani, Good Gutti Vankaya
Just the other day while driving on Green St (an extension of Oak Tree Rd after you pass RT-27) in Iselin, I spotted a glittering sign board screaming
Green Chilli
Dosa, Biryani and Buffet.
Wow, I told myself, yet another new addtion to the already over-crowded Indian food scene in the Oak Tree Road area.
Oak Tree Road in Edison and iselin already has over 56 Indian restaurants spread over on a 4-mile stretch.
Given my weakness for Biryani, I quickly entered Green Chilli and ordered a takeout of Green Chilli Special Chicken Biryani ($10.99) and Gutti Vankaya ($7.99) Vegetarian entree.
It took about 40 minutes for my food to be ready.
Here's my take on Green Chilli Special Chicken Biryani and Gutti Vankaya curry.
Green Chilli Special Biryani
To put it in one word, Green Chilli Special Chicken Biryani was "
awesome
".
Green Chilli Special Biryani was spicy and packed a rich aroma of biryani spices.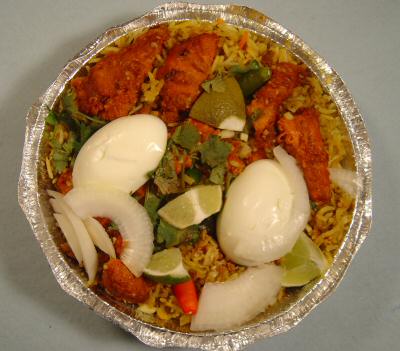 Spicy Green Chilli Special Chicken Biryani
Green Chilli Special Chicken Biryani had several things going in its favor:
First, it was spicy as promised. While placing the order I asked the bloke at the counter about difference between Green Chilli Special Biryani and other Biryanis listed on the menu. The waiter informed me that Green Chilli Special Biryani is spicier compared to others.
Second, the Biryani packed a nice aroma of biryani spices including cloves and cardamom.
Third, it included 12 well marinated medium sized boneless tender chicken pieces and several smaller chicken pieces (some with bone).
Fourth, both the rice and chicken had nicely abosorbed the flavor of biryani spices.
Fifth, Green Chilli Special Chicken Biryani included one boiled egg cut into two slices, cut green chilli pieces, two whole green chillies on top, a few sliced raw onions, chopped cilantro, two pieces of cut lime.
Sixth, the serving size was decent.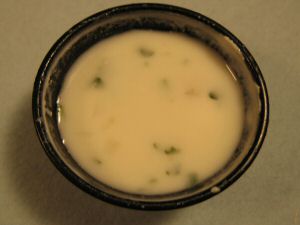 Bad Raita
On the downside, Green Chilli Special Chicken Biryani did not include any vegetables other than chopped cilantro.
Green Chilli Special Chicken Biryani did not come with any gravy but included only a tiny container of raita.
Yogurt used for raita was not set properly. Raita was watery and tasted plain awful with a strong milky taste.

Sure it included tiny pieces of diced tomato and onion but overall the Raita was lousy.


Green Chilli Iselin Gutti Vankaya
Sometimes in life when it rains, it pours tasty Indian food.
That's precisely what happened with my order of Gutti Vankaya vegetarian entree from Green Chilli.
| | |
| --- | --- |
| Gutti Vankaya | White Rice |
As requested, Gutti Vankaya entree was spicy but without any one spice overpowering the other.
Gutti Vankaya included one medium size round eggplant and five small brinjals.
It was enclosed in a tasty, thick onion, tomato gravy and right amount of oil.
The onion, tomato spicy gravy seeped well into the eggplant making it quite yummy.
Gutti Vankaya at Green Chilli Iselin comes with an option of either rice or roti. Since it was a takeout, I opted for rice.
White rice was fine and I had no complaints about its texture. The serving size of both Gutti Vankaya and white rice were adequate.
Green Chilli Ambience and Service
Like most Indian restaurants on Oak Tree Road, Green Chilli on Green St also has the ambience of a dump.
As you enter, you have lunch buffet station by the window on the left side, tables upfront, cash counter (with menu posted on the wall) and kitchen at the rear.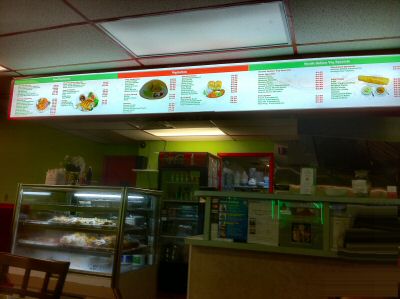 Green Chilli Restaurant Ambience
Since I wanted a takeout, I walked upto the counter and picked up a menu to place my order.
The Telugu speaking waiter wore a haggard look and did not care to smile or even mumble a 'hello.'
He mechanically asked me about the spice preference for my Gutti Vankaya order.
I paid my bill and waited at a nearby table for the food.
It took about 40 minutes for my food to be ready, which in my opinion is too long considering that the restaurant was empty except for two other diners digging into their idli/dosa. Twenty five minutes into the waiting time, the same waiter checked up with me whether I want rice or Roti with my Gutti Vankaya.
My takeout came neatly packed in boxes and included three plates, three napkins but just one plastic spoon.
Green Chilli Rating - Go For It
Notwithstanding my minor irritation over the stiff service, horrible raita and absence of gravy for Biryani, I'd strongly recommend Green Chilli Indian restaurant on Green Street in Iselin for all Biryani aficionados.
Also, the Gutti Vankaya vegetarian entree was tasty and much relished. The overall serving size of Biryani, Gutti Vankaya and white rice were adequate.
By the way, Green Chilli on Green Street in Iselin also offers lunch buffet ($9.99) and lunch specials ($4.99-$6.99).
I plan to return soon to Green Chilli in Iselin to try its Dosa offerings. - ©
OakTreeRoad.us