Sukh Sagar Bhavan Closes, EggOMania Coming
September 12, 2015 -
Sukh Sagar Bhavan
Indian vegetarian restaurant at 1546 Oak Tree Road in Iselin has closed.
Started in late 2014,
Sukh Sagar Bhavan
offered both lunch ($7.99) and dinner ($10.99) buffets.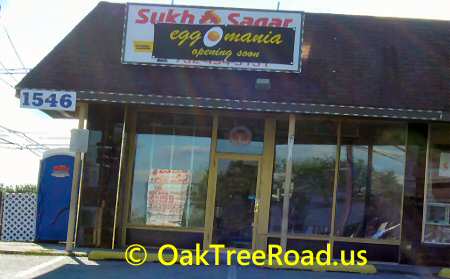 Despite the lure of Oak Tree Road as the principal shopping and dining destination for Indians across New Jersey,
Sukh Sagar Bhavan
(which used to be open all 7-days) failed to survive for even a year.
Sukh Sagar
was a successor to
Volga
Indian restaurant.
Why Sukh Sagar Closed
Four factors likely hit
Sukh Sagar Bhavan
.
First, there's more demand for Oak Tree Road Indian restaurants offering both meat and vegetarian dishes compared to restaurants offering just vegetarian items.
Second, there's severe competition on Oak Tree Road.

There are nearly 100 Indian and Pakistani restaurants in and around Oak Tree Road making it extremely challenging for most restaurants to build up customer loyalty. Hey, it's a buyer's market now on Oak Tree Road for most Indian things.

The huge number of restaurants in Edison and Iselin with little differentiation between them makes it difficult for newcomers without deep pockets to survive.

Third, Whites have largely abandoned Oak Tree Road Indian restaurants. At most Indian restaurants on Oak Tree Road, the majority of faces that stare back at you are from some part of Incredible India.
Finally, the economy in New Jersey and other parts of the country continues to remain depressed forcing people to cut down on dining out.
Another Oak Tree Road Indian vegetarian restaurant that closed in recent months is
Rajkamal
(1691 Oak Tree Road, Edison).
Punjabi Kitchen
(which serves both vegetarian and non-vegetarian items) now occupies the spot of
Rajkamal
.
Since Indian restaurants come and go on Oak Tree Road at an alarming pace, always call the restaurant to check if it's still around before you head out!