Edison Ganesh Utsav Festival 2022
August 23, 2022 - Come August 31, 2022, get ready for the annual celebration of
Ganesh Utsav
this year once again at the
Woodbridge Center Mall
near Oak Tree Road.
The 2022 Ganesh Utsav Festival is celebrated from Wednesday, August 31 to Sunday, September 4, 2022.
And,
2022 Ganesh Utsav
near Oak Tree Road like the earlier years will once again feature a 14-ft tall idol of Lord Ganesh.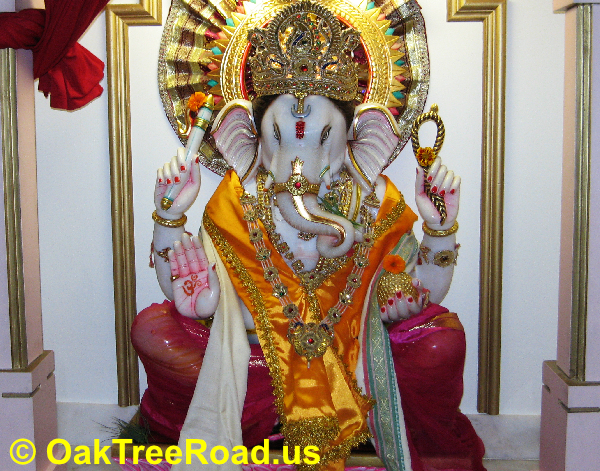 Who is Ganapati?
Asking an Indian "
Who is Ganesh / Ganapati
" is like asking Bobby Jindal
Who is Jesus
.
Once you surrender to Ganesh and prostrate at his feet, good things start raining as all obstacles vanish.
Lord Ganesh's blessings guarantee a Student Visa, OPT or a H1B Visa at the American Consulate in Hyderabad, Chennai or Mumbai India, relief from the 'bench' after entering USA, super-quick H4 Visa for the spouse, fast Green Card processing, rapid promotion in the IT job, 100% occupancy at the
Potel
and only male children.
Ganapathi Bappa Morya, Purchya Varshi Laukar Ya
(O Lord Ganesha, come again next year fast).
Ganesh Utsav Festival Near Edison
Besides a 14ft idol, a 1,000lb modak - favorite food of Ganesh - will be on display at the
Woodbridge Center Mall
Woodbridge, NJ.
Scheduled from
August 31-September 4, 2022
, the Vinayaka/Vinayagar/Ganesh festival will include regular Poojas and aartis.
Cultural programs are in the evenings between 6PM-8PM.
Daily Aarti
There will be one evening daily Aarti at 8PM from August 31-September 4 and a morning and afternoon
Aartis
on September 3 & 4, 2022 at 10AM and 2PM respectively.
Admission to
Ganesh Utsav
2022 is free.
Ganesh Utsav 2022 Location
:
Woodbridge Center Mall
250 Woodbridge Center Dr
Woodbridge, NJ 07095.
Free Darshan Timings
August 31 - September 2, 2022 - 5:00PM-10:00PM
September 3 & 4, 2022 - 10:00AM-10:00PM
Aarti Timings
August 31 - September 2, 2022 - 8PM
September 3 & 4, 2022 - 10AM, 2PM & 8PM
If you have the blessings of Lord Ganesh, nothing can stop you.