OMG! Hyderabad Dum Biryani Being Trademarked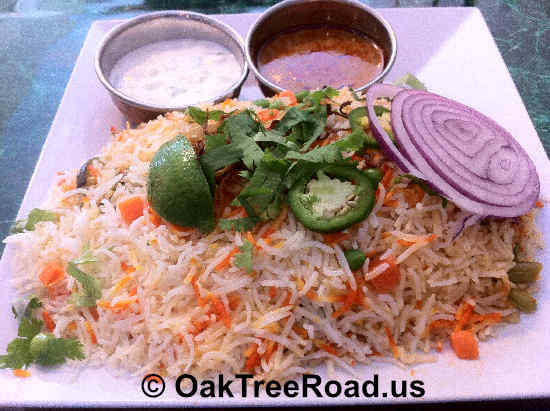 September 27, 2015 -
Bravo Subbu Gundapaneni, Bravo
!
I doff my existential
Fedora
to you!
Truly Sir, You're a savant!
What Hamlet spoke in great dirge of the late King, the much lamented father lately a
Ghost
, is more apt in your instance, Sir!
He was a man. Take him for all in all.
I shall not look upon his like again.
- Hamlet, Act 1, Scene 1
Baby, genuflect before the infinitely superior intellect of Subramaniam Narayana Gundapaneni.
Men
like Subbu walk the Earth but seldom.
Gundapaneni Who?
Yo man,
who the heck's Subbu Gundapaneni?
Yeah, yeah, I hear the impatient
desi
dolts shrieking in the stands.
Subbu Gundapaneni's brilliant claim to fame is to file a trademark application for
Hyderabad Dum Biryani
with the
US Patent and Trademark Office
on May 27, 2015.
And if all goes well nary a hurdle betwixt the filing and the approval, Subbu will soon be the proud possessor of the fantastic,
non pareil
American trademark -
Hyderabad Dum Biryani
Like so many fine immigrants of Indian origin helping America regain its completely lost sheen, Subbu's roots may be traced to the
sui generis
Telugu bastions of Andhra Pradesh and/or Telengana in the Southern half of
Incredible India
.
An ERP professional in the Bay area, Subbu Gundapaneni is an entrepreneur swimming in the shark-infested waters of the Hyderabad Dum Biryani business via his restaurant
Hyderabad Paradise Biryani
in Milpitas, California.
What's Hyderabad Dum Biryani?
Defying description by mere mortal tongues, Hyderabad Dum Biryani is the
desi Holy Grail
of 21st century
Amreeka
.
A Basmati Rice dish surely dreamed up first for the
Divine
palate.
Were the old rabid anti-India cur Churchill still inhaling and exhaling, he'd be quick to distill Hyderabad Dum Biryani as
a riddle wrapped in a mystery inside an enigma.
Truth be said, a prime steak is no more than an uncultured White Man's Hyderabad Dum Biryani.
Although the hoary origins of Hyderabad Dum Biryani are lost in the mists of history, suffice it to say the orgasmic mound of rice and meat is one of the great
Culinary Wonders of the Modern Era
.
In a sane world, wars would be fought solely over Hyderabad Dum Biryani, not over piffle like
Weapons of Mass Destruction
.
Those blessed with an introduction to the marvel of Hyderabad Dum Biryani slip into a heady swoon and henceforth distinguish their lives only in terms of
BDB
(Before Hyderabad Dum Biryani) and
ADB
(After Hyderabad Dum Biryani).
BC
&
AD
, the child in the manger and the
Hispanic
Pope be damned!
Were my inamorata Jonathan Franzen to be miraculously
enlightened
, his post
Purity
offering would be a 563-page paean to Hyderabad Dum Biryani.
Such is Hyderabad Dum Biryani
.
Guys, Subbu Gundapaneni's application for "Hyderabad Dum Biryani" has already earned the preliminary approval of the USPTO examing attorney and the filing will soon be published for opposition.
Like Hercules, Subbu is undeterred by failures that would fell an ordinary
Man
.
A few years back, Subbu filed a trademark application for
Hyderabad Paradise Biryani
with the USPTO but abandoned the effort after encountering rough weather over similarities with a previously registered mark,
Paradise Biryani Pointe
.
But unlike us lesser mortals, Subbu Gundapaneni persevered and,
Lord Balaji of the Seven Hills
willing, will soon own the priceless "Hyderabad Dum Biryani" trademark!
How scores of Hyderabad Dum Biryani restaurants in America respond to Subbu Gundapaneni's May 27, 2015 trademark filing will be as interesting to watch as the sequel to Rajamouli's cinematic
magnum opus
Baahubali
.
Subbu Gundapaneni has thrown the Hyderbad Dum Biryani trademark gauntlet.
Is there a
Telugu
man enough in
Amreeka
to pick it up now?
Oak Tree Road & Hyderabad Dum Biryani
Oak Tree Road is no stranger to Hyderabad Dum Biryani.
So many Hyderabad Dum Biryani restaurants have come up on and around Oak Tree Road in Edison and Iselin that I won't be surprised if Oak Tree Road's name is soon changed to
Dum Biryani Blvd
.
Bring it on,
Joel Stein
!
Fortified by buckets of Hyderabad Dum Biryani, this
Brown face in the ring
is waiting for all the whining Steins of the forever vanished Edison.
Related Hyderabad Dum Biryani Trademark Documents
1.
Subbu Gundapaneni's Current Live "Hyderabad Dum Biryani" Filing with US Patent & Trademark Office
2.
Subbu Gundapaneni's Abandoned Trademark Filing for "Hyderabad Paradise Biryani" with US Patent & Trademark Office