Ganesh Festival 2015 Oak Tree Rd, Edison
September 2, 2015 - Prepare yourself for
Ganesh Utsav
2015 celebrations at the
JK Golden Mall
on Oak Tree Road in Edison.
Ganesh Utsav
on Oak Tree Road will once again feature a 14-ft tall idol of Lord Ganesh.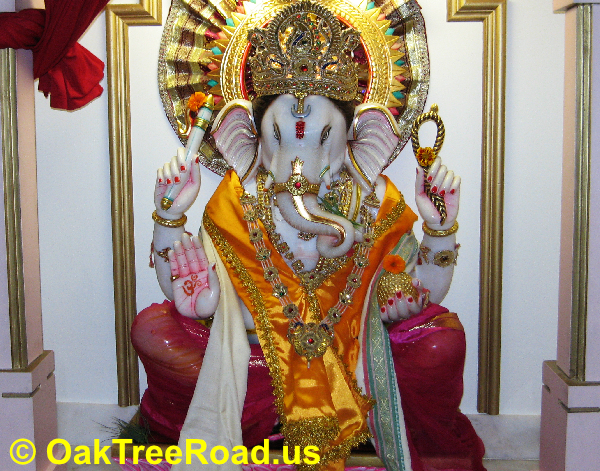 Who is Ganesh?
Asking an Indian "
Who is Ganesh
" is like asking Bobby Jindal
Who is Jesus
.
Rivalled in India only by Rajinikanth and Salman Khan in popularity, Ganesh aka Ganpati (son of Shiv and Parvati) is the most beloved Hindu God .
Once you surrender to Ganesh and prostrate at his feet, good things start raining as all obstacles vanish.
Lord Ganesh's blessings guarantee a H1B Visa at the American Embassy in India, relief from the 'bench' after entering USA, super-quick H4 Visa for the spouse, fast Green Card processing, rapid promotion in the IT job, 100% occupancy at the
Potel
and only male children.
Ganapathi Bappa Morya, Purchya Varshi Laukar Ya
(O Lord Ganesha, come again next year fast).
Ganesh Utsav in Edison
Besides a 14ft idol, a 1,000lb modak - favorite food of Ganesh - will be on display at the
JK Golden Mall
this year as well.
Scheduled from
September 17-21, 2015
, the Ganpati festival will include regular Poojas and a variety of cultural programs.
Cultural programs are in the evenings between 6PM-8PM.
Aarti
There will be three
Aartis
daily (10AM-11AM, 1PM-2PM and 8PM-9PM).
Admission to
Ganesh Utsav
2015 is free.
If you have the blessings of Lord Ganesh, nothing can stop you.
Ganesh Utsav 2015 Location
: JK Golden Mall, 1680 Oak Tree Rd, Edison, NJ 08820.