Edison Desi Boy Gets Eagle Scout Rank
January 20, 2016 -
Akshat Mehta
will receive the coveted
Eagle Scout
rank on January 30, 2016 following his completion of an important project that greatly enhanced the music program at J. P. Stevens High School on Grove Avenue in Edison (NJ).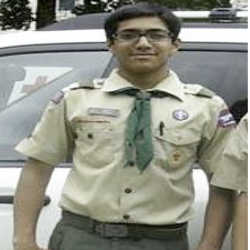 Eagle Scout is the highest rank attainable in the Scouting program of the
Boy Scouts of America
.
Music Catalog Project
Since Akshat was a soloist for the school's jazz ensemble, a soloist for the
Central Jersey Music Educators Association's
Invitational Symphonic Band, a drum major for the marching band, a member the school's wind ensemble, a member of the CJMEA Regions Wind Ensemble and his Scout troop's bugler, it was only natural that his Eagle Scout project would focus on music.
Akshat significantly improved the music program at his high school by cataloging and organizing over 400 CDs, hanging award plaques above the trophies to showcase the band's achievements and cataloging, organizing and labeling the program's small ensemble music to make it more easily accessible to all students.
Besides receiving financial support to the tune of $670 from friends, family and local organizations, Akshat benefited from the assistance of 100 volunteers who collectively toiled 550 hours to assist him with the music catalog project.
An honor roll student at J.P. Stevens High School and president of his class for the last four years, Akshat Mehta plans to pursue the physical therapy program at Boston University.
Be sure to attend the
Eagle Court of Honor
event at the Iselin Presbyterian Church on January 30, 2016 where Akshat will receive the Eagle Scout rank.
Bravo, Akshat Mehta. Keep it up!