Indian Funeral Services near Oak Tree Rd
The growth of the South Asian community in New Jersey has meant the need for specialized services like funerals and cremated ash scaterring.
Until a few years back, there were no providers of funeral and cremation services that took into consideration South Asian culture and practices.
Today there are several providers of funeral services in central New Jersey that offer a range of services for Hindus, Christians and Muslims from the Indian subcontinent.
*
The Hindu Funeral Home
**********************
*
Ruby Memorial LLC - Funeral & Cremation Services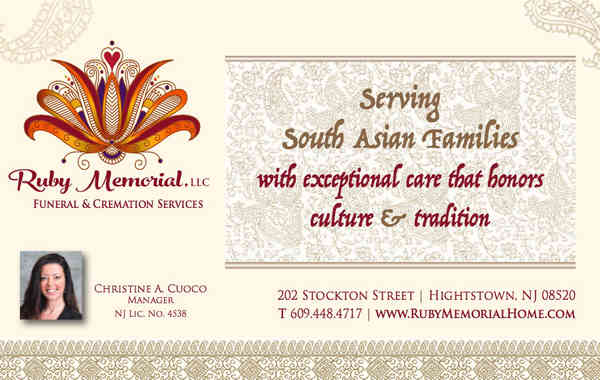 Ruby Memorial LLC
202 Stockton Street
Hightstown, NJ 08520
Ph: 609-448-4717
www.rubymemorialhome.com
Contact:
Christine A. Cuoco
Manager
NJ LIC. No. 4538
Christine@rubymemorialhome.com

Specializing in South Asian Funerals
Professional and Compassionate Staff
Cremation and Burial Service Options
Traditional and Personalized Funerals
Memorial Services and Graveside Ceremonies
Selection of Cremation Urns and Caskets
Funeral Pre-Planning
Available 24-Hours
**********************
Cremated ashes scattering off the shoreline of Atlantic City, New Jersey aboard the motor vessel Metamorphosis.

Helping families fulfill their wishes for a memorial scattering service at sea.

A dignified sea scattering is performed in accordance with all EPA requirements.

Metamorphical Journeys L.L.C.
Captain Stewart Rosen
Atlantic City, NJ
www.metjourneys.com
Ph: 210-859-1508
info@metjourneys.com

Cremated Ashes Scattering at Sea
EPA Burial At Sea Regulations
According to regulations (40CFR 229.1) based on the Marine Protection, Research and Sanctuary Act of 1972, human remains transported from U.S. ports or on U.S. vessels or aircraft may be buried at sea under specified conditions. These include cremated as well as non-cremated remains. Requirements for burying remains at sea are listed below. Please note the requirement that the (EPA) be notified within 30 days after burial.
Preparation for burial. Human remains shall be prepared for burial at sea and buried in accordance with accepted practices and requirements as may be deemed appropriate and desirable by the U.S. Navy, U.S. Coast Guard, or civil authority charged with the responsibility for making such arrangements. For example, local health departments may require burial or cremation permits.
Disposal location and measures. Cremated remains shall be buried in or on ocean waters without regard to the depth limitations provided that such burial take place at least 3 nautical miles from land.
Decomposable flowers and wreaths. Flowers and wreaths consisting of materials that are readily decomposable in the marine environment may be placed at the burial site.
Notice to EPA within 30 days. All burials conducted shall be reported within 30 days to the EPA Region in writing.
Metamorphical Journeys LLC complies with all EPA requirements and will process all required documentation
Advertorial